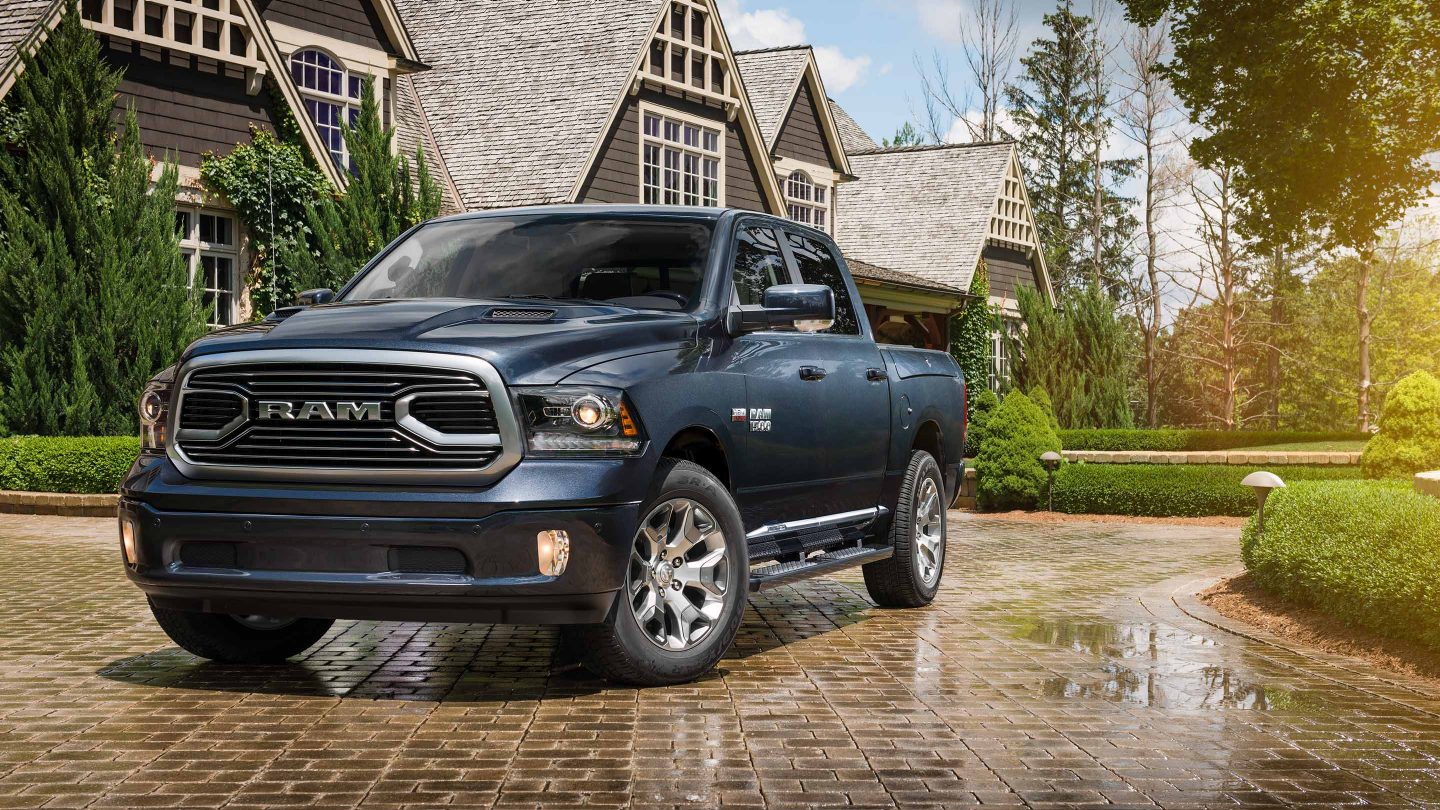 Overview
The 2018 RAM Limited Tungsten is the name of greatness. It describes a series of trucks that are not only strong performance leaders but also are the lap of luxury on the inside. It may be hard to think of a pickup truck as being luxurious, but it's all true. You can sip champagne in the driver's seat, or you can get your hands a little dirty. It'll still the champion that you need it to be. The manufacturer carefully designed every crevice of these 2018 RAM trucks to elegant perfection. By the time you're done reading just a few of the key points on the model, you'll be ready to contact Briggs RAM Topeka serving Topeka Lawerence Kansas City and test-drive one for yourself.
Plush Interior Design Features
Do you appreciate luxury? This opulent pickup sparkles with it! Open the door on the driver's side and slip behind the wheel. You'll feel the comfortable frosted beige seats supporting your back as you drive, offering a remarkably smooth ride.(1) The manufacturer included stitched leather seating material and extensive wood and metal trim, with some suede, to create an enticing, upscale cabin. (You can also obtain the 1500 Limited with regular black leather seats if you prefer.)(1) See these trucks soon near Lawerence. You won't hesitate to use this vehicle for important business commitments; people will notice the elegance of the interior immediately. With a well-designed instrument display panel and many available options for adding Internet connectivity, you'll enjoy a wealth of high tech communications and entertainment options, too. Driving this model of RAM 1500 truck does not require sacrificing the comforts many people associate with executive sedans. 
Interior
The 2018 RAM Limited Tungsten manufacturer wanted to make sure that every passenger and driver of the Tungsten got to literally sit in luxury. It started with the comfortable leather seating and all the gadgets that are there for the driver and passenger's taking. The options for the interior are beige leather seating with blue highlights or a traditional classy black seating color. Both of them will leave travelers feeling as if they are in the midst of pure luxury. Someone at Briggs RAM Topeka serving Topeka Lawerence Kansas City can take you on a 2018 RAM ride so that you can experience the comfort of this vehicle from the inside. All you have to do is ask.

Exterior
The exterior is completely smashing. It has an eye-stopping appeal to it that shows the craftsmanship that the company put into it. Its grippingly unique grille is the first thing that will grab you, but then the chrome trim and spectacular wheels will confirm that you are looking at pure mechanical genius. Some of the color options that you will have available are options such as Bright White, Brilliant Black Crystal, Delmonico Red Pearl and more. Choose the color that fits your personality best.
Mechanical Aspects
The technology and mechanical aspects are important features to have because they can keep your passengers entertained while they are in the vehicle. Just a few of the features that will be available for you to experiences are features such as the Apple CarPlay, Android Auto, Uconnect Radio, navigation, SiriusXM and more. You'll also have heated seats and a ton of other luxury features. As with all the features, you won't be able to experience the full list without making an appointment and seeing the vehicle up close.
Powertrain
The powertrain on this model is going to meet every need that you have. You'll be able to experience the strength and speed that you desire while you still have the smoothness and handling prowess. The 1500 model has a 5.7-Liter HEMI MDS VVT motor and an exciting 8HP70 transmission, which is an eight-speed option. The 3500 has a little bit more for you if you're into that super-powerful performance aspect. You can pick the 6.4-Liter HEMI V8, or you can choose the 6.7-Liter I6 Cummins Turbo Diesel Engine. Both options offer a 6-Speed Automatic 68RFE Transmission, and they will both leave you feeling like you're the king or the queen of the road.
Safety Features on the Tungsten Limited
A strong set of safety features is something that you should look for in any vehicle whether it's a car or a pickup. The Tungsten models come with a wealth of features that work to keep you safe for the duration of your trip. Some of the top features that you will experience are features such as the Adaptive Cruise Control feature and the backup camera. The backup camera is just one of those features that ensure that you and your vehicle remain safe on the road. It helps to guide your backing so that you don't hit someone in the parking lot. Adaptive Cruise Control is an amazing safety feature that actually adapts to your following speed. The focus is to keep the truck a safe distance away from the next vehicle at all times so that you have enough room to stop if something unexpected happens. The ACC does all the calculations and work for you so that you don't have to worry about a thing. The vehicle has many more magnificent safety options, but you'll need to visit a dealership serving Topeka Lawerence Kansas City to find out. A nice test-drive will reveal all that you need to know about the truck.
Test-Drive the new 2018 RAM Tungsten at Briggs RAM Topeka Today
Greatness isn't something that you'll want to experience from afar, so it would be in your best interest to schedule a test-drive today. The test-drive is your opportunity to get up close and personal with the vehicle and see if there's anything else that you need or desire in it. You can discuss that with your salesperson, and he or she can work out the specifics so that you can have the truck of your dreams. The salesperson is available today for you so that you can start your luxury trucking journey. Give a call and set up an appropriate time for an amazing power truck showing.