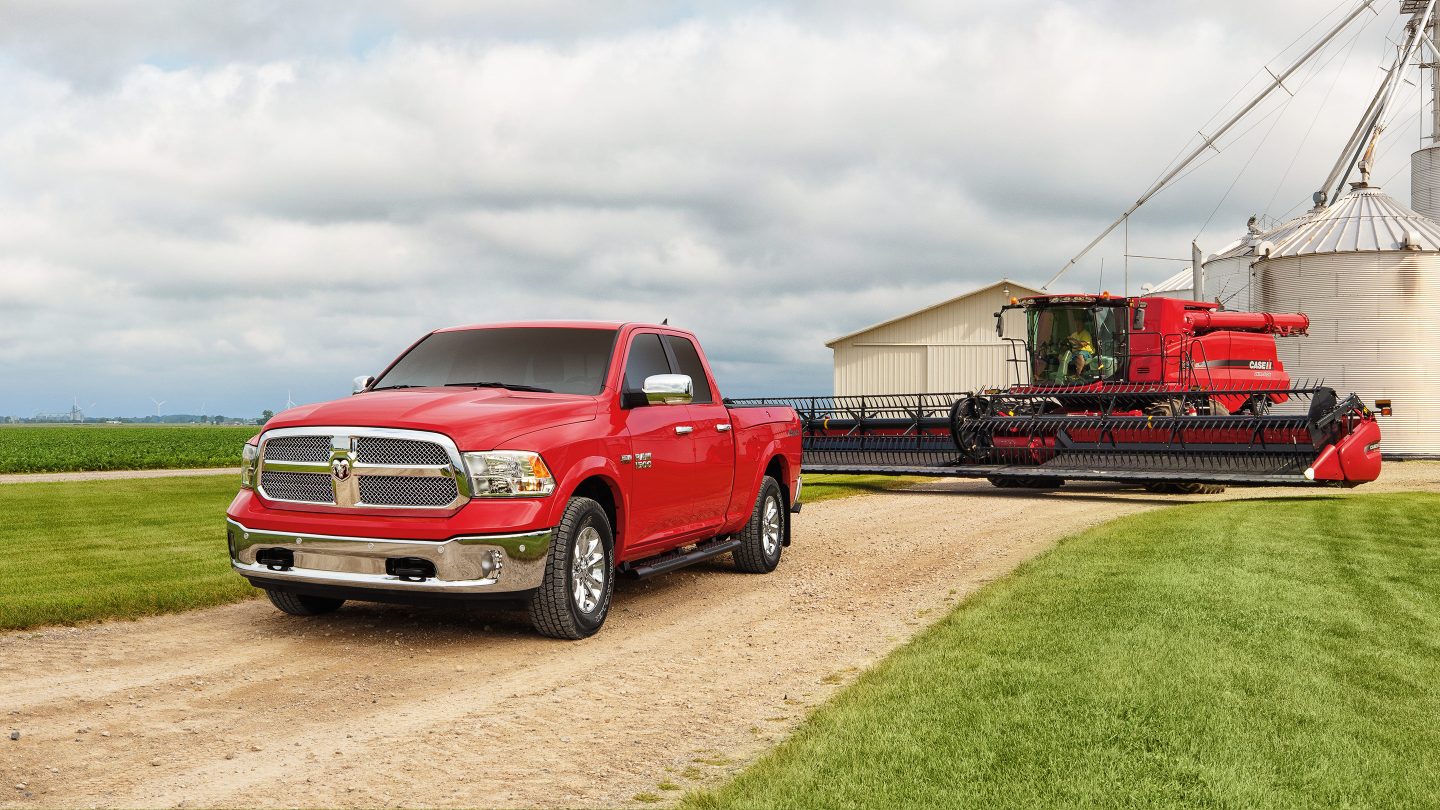 Overview
Ram pickups can be found on a lot of farms. For the new model year, the truckmaker is putting farmers first with the 2018 Ram Harvest in Topeka. These models are specifically designed to help with the work that farmers do every day. The whole lineup is ready for your inspection at Briggs RAM Topeka.
Interior
In keeping with the truckmaker's current tradition of providing a higher quality cabin, you can be sure that the 2018 Harvest edition will offer top materials and an inviting design. The 1500 will have the 8.4-inch UConnect touchscreen. This includes navigation with realtime weather maps and forecasts. Android Auto expands the system for Android phone owners. Apple CarPlay does the same for iPhone users. The system's 4G WiFi will be a welcome aid when the farmer needs to connect but is far away from an internet source. Heavy Duty models will add a cargo-view camera to help you keep an eye on important stuff like your work supplies, farm equipment, or animals. You can see how this feature works when you visit Briggs RAM Topeka.
Exterior
Special colors are being offered for the 2018 Ram Harvest serving Topeka Manhattan Lawerence Kansas. This includes New Holland Blue and Case IH Red. These shades match farm equipment colors exactly. Farmers had been asking for this, and Ram is happy to make it possible. Other color choices include black, white, monotone, and two-tone hues. Since farms and farm families come in many sizes, shoppers can choose the cab and bed that suits them best. All box lengths for the Quad and Mega Cabs will be offered at your Topeka RAM dealership. These will come with a durable spray-in bedliner and fold-out bumper step for quick entry. To roll more easily over farmland debris, the Ram will also sit an inch high. Extra ground clearance is always welcome when working off-road. Skid plates protect the vital systems from damage. The truckmaker is also providing special on/offroad tires for the heavy duty Rams. These can take daily punishment from rough roads and tricky terrain. Tubular side steps help everyone reach the cabin.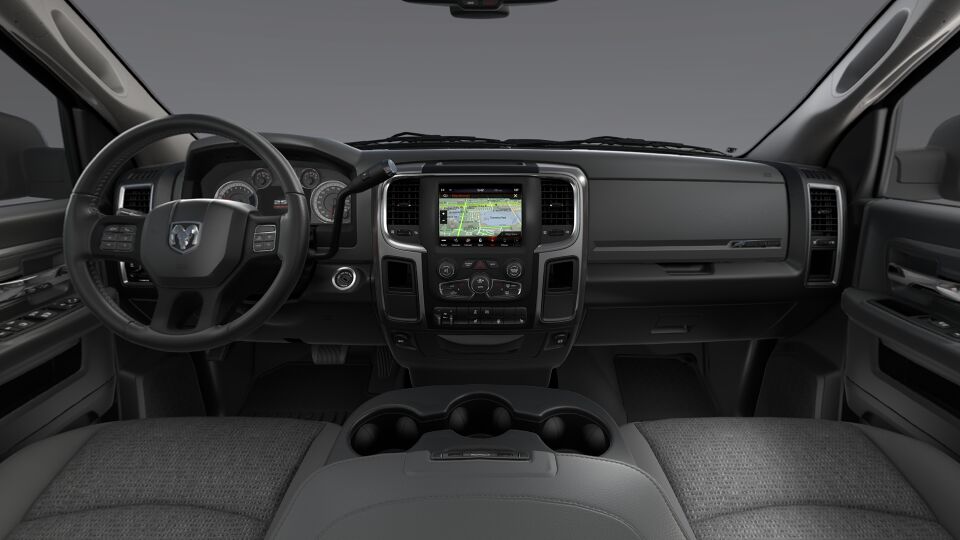 Mechanical
The 2018 Ram Harvest in Topeka will come in 1500, 2500, and 3500 models serving Topeka Manhattan Lawerence Kansas. This gives farmers a choice of strength levels to match the hard work they do every day. 2018 Harvest 1500 editions now have an electronic shifter to reduce the interior clutter. The eight-speed automatic transmission benefits from a thermal management system to keep the fluid at the best temperature for operation. Trailer sway control uses brake redistribution to keep the load steady and straight. The smart rear suspension set-up on both the 1500 and 2500 models gives these two trucks a smoother ride than any other pickups in either class. 2500 and 3500 models offer tougher versions of the brand's manual and automatic transmissions. There's even an Aisin Heavy Duty transmission available. You can also get hill assist control to help protect the gears and brakes. The 3500 turbo diesel comes with an exhaust diesel brake to improve traction and stopping times.
Powertain
With light and heavy duty choices for the 2018 Harvest, you have many levels of performance to choose from. At the top, there's the 385-horsepower Turbo Diesel. It kicks out 900 lb.-ft. of torque. The maximum tow rating is over 31,000 pounds. That ought to help with farm work! It can also haul up to 6,720 pounds, depending on your bed choice. If that's too much power for your needs, you can step back to the best-in-class horsepower of the 6.4-liter HEMI V8. Offered on 2500 and 3500 models serving Topeka Manhattan Lawerence Kansas, this engine delivers 410 horsepower and 429 lb.-ft. of torque. On 2500 models, another HEMI V-8 offers 383 horsepower and 400 lb.-ft. of torque. A 5.7-liter HEMI V8 powers the 2018 Ram Harvest 1500. This offers 395 horsepower and 410 lb.-ft. of torque. The truckmaker lets you choose how much performance you need for the jobs you do on the farm every day. Our Topeka Ram dealership staff can help you match the right truck to your needs. Briggs RAM Topeka is your home for the new Harvest editions.
Safety
Our brand puts a big emphasis on your safety. A full contingent of airbags blanket the two-row cabins. Traction controls keep the truck out of trouble when conditions are slick or the ground is uneven. Four-wheel drive provides the extra protections necessary if the truck is going off-road. Drivers will appreciate aids like the individual tire pressure monitor and the Parkview camera. Ramboxes are available to keep your equipment safe, secure and dry in the 2018 Ram Harvest.
Now that you know more, take a test drive. The 2018 Ram Harvest in Topeka is available from your Topeka Ram dealership. Be sure to ask about the discounts available to many farmers through a variety of farming organizations.