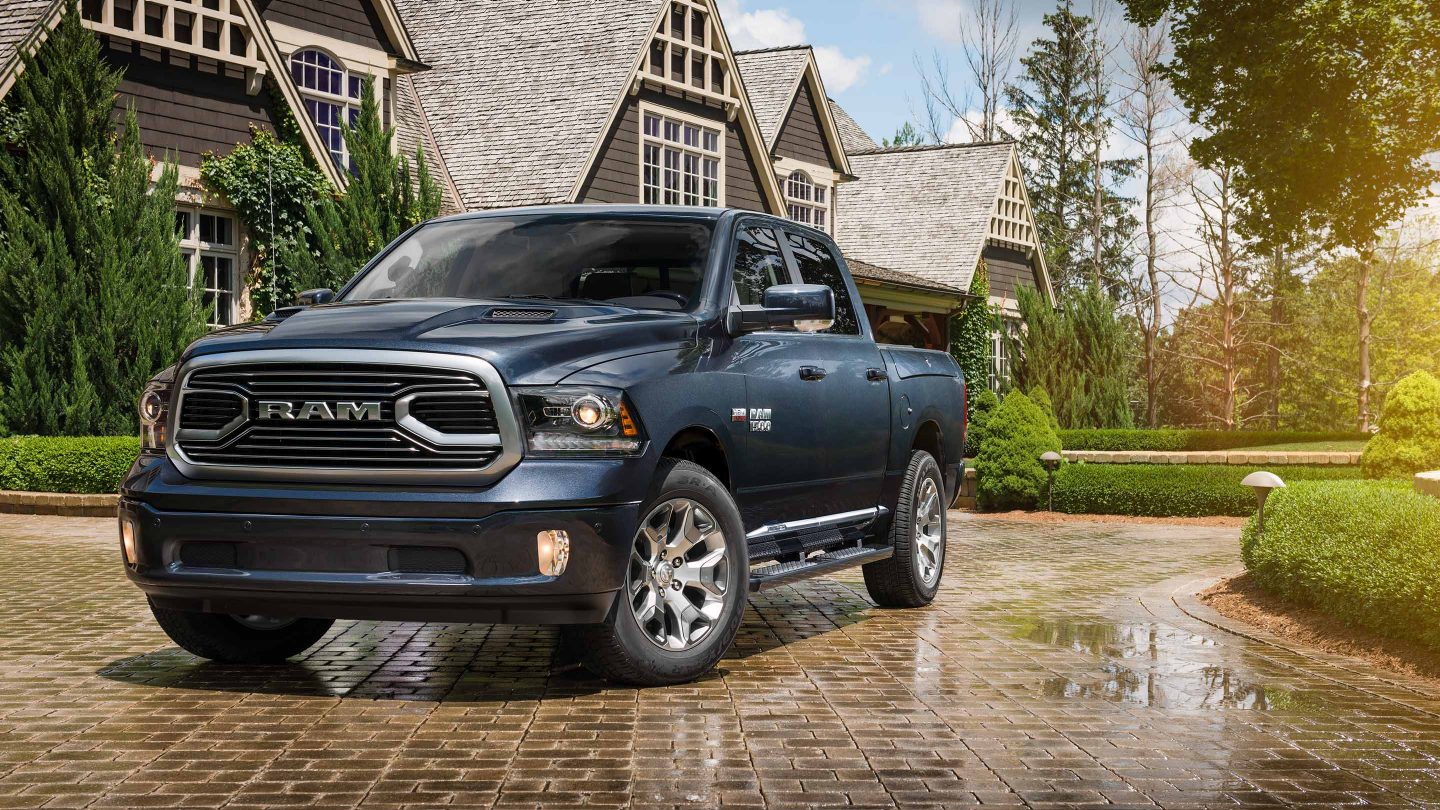 The Awesome 2018 RAM 1500 Limited Tungsten
Drivers in the Lawrence and Topeka areas frequently possess a keen eye for solid automotive values, so it comes as no surprise they will soon gain an opportunity to review the magnificent 2018 Limited Tungsten, a full-sized luxury pickup. The manufacturer will release these in-demand models of 2018 RAM 1500 in the autumn. This region of Kansas sometimes endures sub-zero weather during the winter. Reserving a new Limited Tungsten now remains one way to ensure a more pleasant driving experience in coming months, even during inclement conditions. Many Kansans choose only RAM pickups, due to the brand's reputation and dependability. These savvy customers in particular will want to take a close look at the exciting 2018 RAM 1500 Limited Tungsten, now available for a limited period of time through Briggs RAM Topeka.
Plush Interior Design Features
Do you appreciate luxury? This opulent pickup sparkles with it! Open the door on the driver's side and slip behind the wheel. You'll feel the comfortable frosted beige seats supporting your back as you drive, offering a remarkably smooth ride.(1) The manufacturer included stitched leather seating material and extensive wood and metal trim, with some suede, to create an enticing, upscale cabin. (You can also obtain the 1500 Limited with regular black leather seats if you prefer.)(1) See these trucks soon near Lawerence. You won't hesitate to use this vehicle for important business commitments; people will notice the elegance of the interior immediately. With a well-designed instrument display panel and many available options for adding Internet connectivity, you'll enjoy a wealth of high tech communications and entertainment options, too. Driving this model of RAM 1500 truck does not require sacrificing the comforts many people associate with executive sedans. 
An Eye-Catching Exterior Style
The 2018 RAM 1500 Limited Tungsten displays a unique fluted swelling in the hood, affording this eye-catching vehicle a distinctive, very alluring profile.(2) Yet like other Limited Tungsten models, it also showcases a signature Tungsten paint coat and shiny chrome grille and accents. You'll notice the wheels in particular: they brandish a fine coating of satin carbon paint applied over an intricate symmetrical design carrying the RAM logo in the center; the manufacturer also incorporated accents (in tungsten, of course) inside the wheel itself. For drivers who prefer to project a trendy upscale image, this pickup offers some enticing exterior trim features indeed! The manufacturer includes tungsten-colored running boards and a tungsten tailgate.(1) The Limited Tungsten reaches you in a 1500 Crew Cab configuration and supplies a rear box extending for 5' and 7",(2) offering useful hauling capabilities in addition to style. Contact Briggs RAM Topeka serving Lawerence Manhattan Kansas to explore this model's exterior features in greater depth.

Precision Engineered Mechanical Features
You'll discover all the superbly designed elements of a RAM 1500 in the Tungsten Limited. Choosing this model won't detract in any way from the reliable mechanical performance features you've come to expect from this acclaimed brand. Whether the superbly engineered suspension and braking systems spark your interest, or you'd like more information about options and upgrades, our team at Briggs RAM Topeka wants to answer your questions. We'd like to become a useful resource for you as you research your next pickup. When you view the 2018 models near Lawerence, ask the marketing team to help you track down details about vehicle specifications that interest you.
A Commanding Powertrain
Your local dealership serving Lawerence Manhattan Kansas also assists customers in evaluating available powertrain and engine options. It usually makes sense to consider these issues closely prior to selecting a new vehicle. All the RAM pickups we carry furnish impressive hauling and towing capabilities. Let us know how you plan to use your vehicle and we'll help you evaluate different engine choices. In addition to upgraded horsepower, the manufacturer can provide accessories and specialized packages to accommodate customer needs (such as additional stability and traction assistance for parking on slopes). We want your investment in one of these pickups to deliver full value to you!
When Safety Matters
Drivers who see the new Limited Tungsten at their local dealership serving Lawerence Manhattan Kansas will discover many standard safety features already engineered into this remarkable pickup. From its strong steel frame to its extensive array of sensors and available driver alert systems, Limited Tungsten reflects its engineers commitment to safety as a priority. Ask us to discuss specific safe driving technologies when you see this pickup near Lawerence.
Opportunity Awaits
During the next few weeks, a lucky few will become the first drivers in this part of Kansas to test the Limited Tungsten's performance on local roadways. The ability to grip the steering wheel, place your foot on the accelerator and appreciate the responsiveness of a superbly engineered powertrain tantalizes many truck drivers. As you'd expect, we anticipate a high demand for the opportunity to test drive Limited Tungsten first! If you'd like a chance to evaluate this magnificent limited edition RAM truck for yourself, don't wait too long. Sometimes in-demand models of vehicles sell out quickly. Call us to begin the process of reserving your test drive. Customers who take action early will become the first to fully explore all the desirable features of this exciting new model!