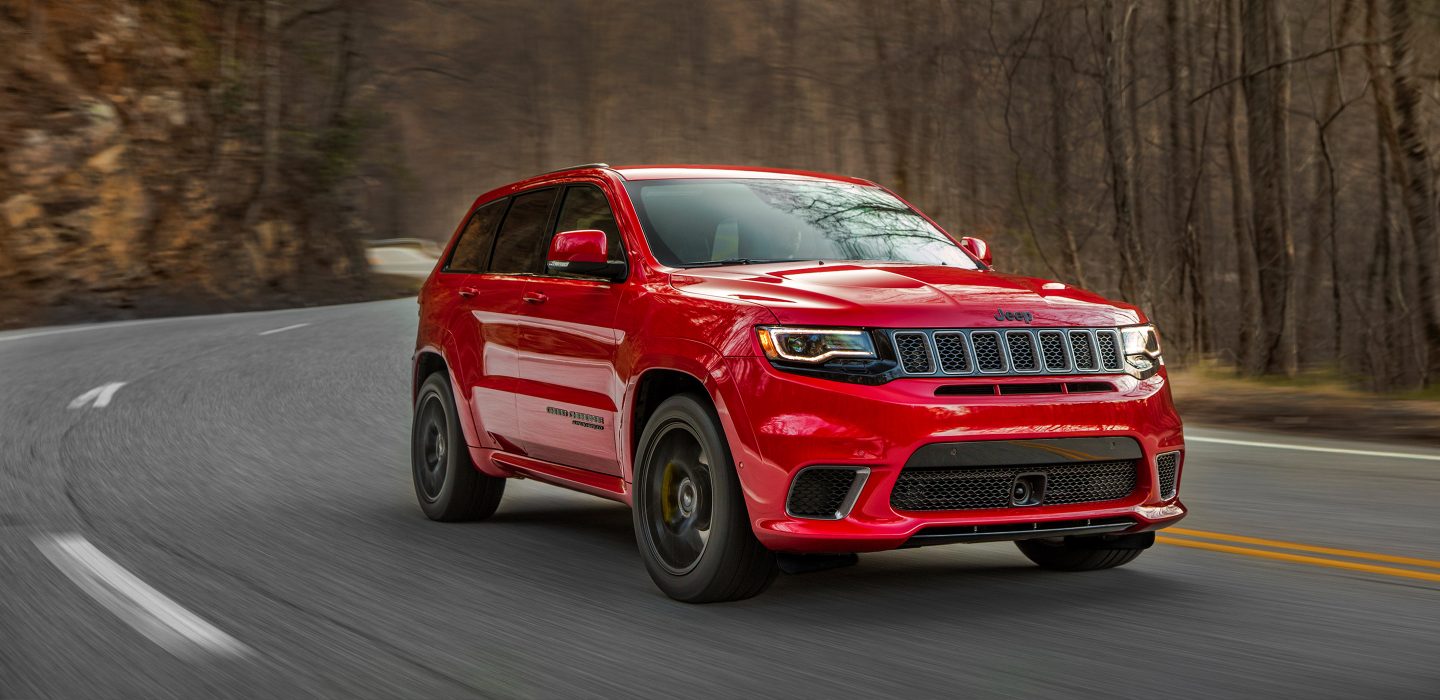 Overview
If you have a passion for adventure, take a look at the all-new 2018 Jeep Grand Cherokee Trailhawk. It is engineered to be one of the most capable SUVs to ever hit the market. Whether you are tackling a muddy trail or climbing a snow-packed mountain, the Grand Cherokee Trailhawk will get the job done. However, it is more than just a legendary off-road performer. You can also take advantage of the SUV's family-sized cabin and high-tech features. A powerful engine makes the Trailhawk even more exciting to drive. Your local Topeka Jeep dealership urges you to stop by to experience a test drive. Check out this Briggs Jeep review to learn more details.
Interior
On the inside, the 2018 Jeep Grand Cherokee Trailhawk provides enough space for up to five people. There is also a surplus of cargo space in the back. Everyone in your crew will enjoy ample legroom. You can certainly look forward to experiencing a high level of comfort. Heated and cooled seats help keep you relaxed throughout the day. While the new Grand Cherokee Trailhawk is engineered for hardcore adventures, it still provides a luxurious driving experience. You will love taking this SUV on a long road trip. Unique leather upholstery makes the cabin look especially stunning. This 2018 Jeep SUV will also come loaded with a number of high-tech goodies. The updated Uconnect infotainment system continues to impress car reviewers. An 8.4-inch touch screen allows you to easily scroll through the available apps. Apple CarPlay and Android Auto simplify smartphone integration. Whether you are cruising down the highway or hitting the trails, the SUV's high-powered sound system brings an extra dose of excitement. As soon as you fire up the engine, the high-resolution gauge cluster will immediately come to life. Some of the other goodies include Bluetooth connectivity, a useful backup camera, and special off-road display pages. According to Jeep, the new Trailhawk is coming to Topeka KS in the very near future.
Exterior
There is no overlooking the Trailhawk's muscular road presence. Although it shares many styling cues with the other Grand Cherokee trims, it looks especially rugged. Everyone on the road will be forced to take a second glance. Like so many other modern-day Jeep vehicles, the 2018 Jeep Grand Cherokee Trailhawk flaunts a stylish seven-slot grille. However, the grille and headlights have been blacked-out to further set apart the Trailhawk model. Dual exhaust tips give the SUV an extra measure of sportiness. Red tow hooks enhance the Trailhawk's tough-nosed appearance. Not only does the black hood decal look cool, but it also helps eliminate sun glare. Wrapped in all-terrain tires, the Trailhawk's exclusive alloy wheels will definitely grab your attention. This is the perfect vehicle for the drivers who want to make a powerful statement. Your trusted Topeka Jeep dealership will have a number of striking paint colors to choose from. After reading this Briggs Jeep review, contact the dealership to learn more about the available trim packages.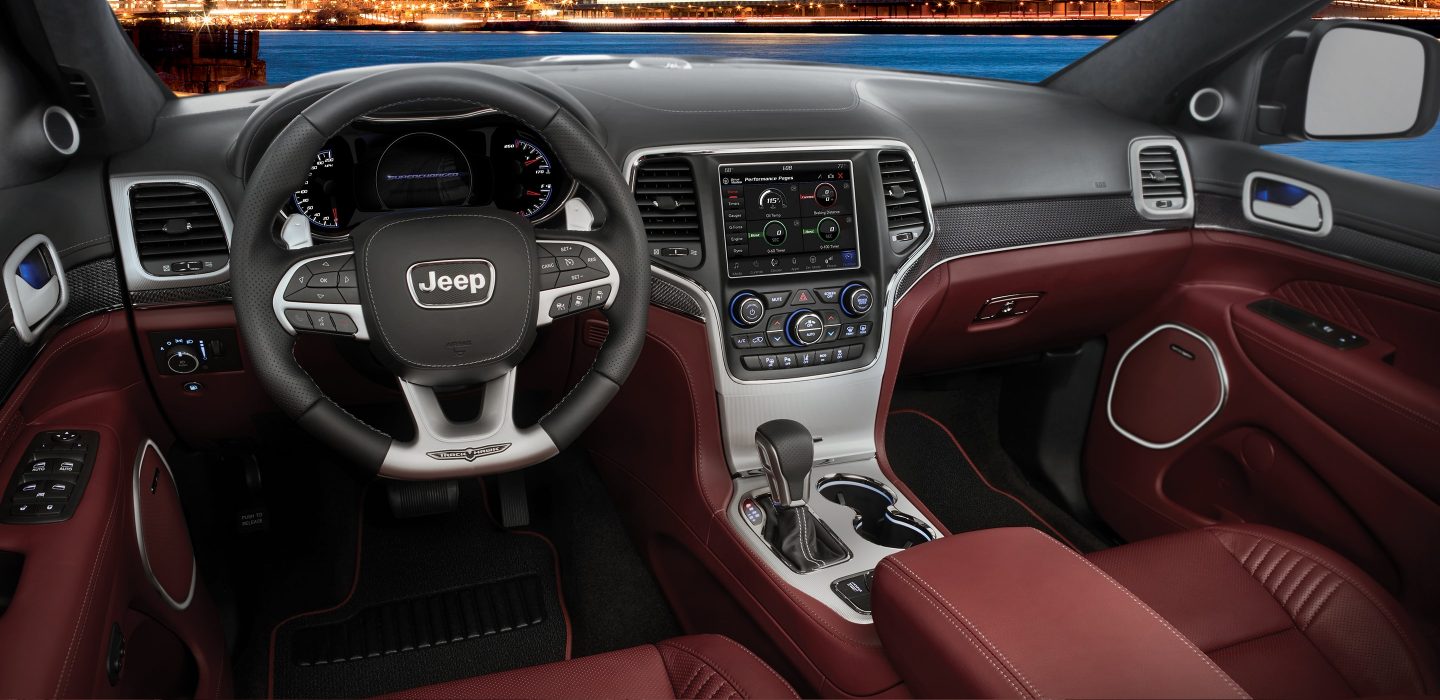 Mechanical
Expect this new 2018 Jeep SUV to offer the ideal blend of comfort and ruggedness. While you are cruising along the highway, you are destined to fall in love with the Trailhawk's unruffled ride. The shock absorbers do a great job of soaking up bumps in the road. While the Trailhawk is a smooth performer on the street, everyone has been raving about the SUV's sensational off-road capabilities. It comes loaded with an array of upgraded components. When traveling in rough environments, a Quadra-Lift adjustable air suspension helps you to literally climb over obstacles. Meanwhile, a heavy-duty cooling system helps keep the engine at the ideal temperature. Of course, you can forget about the aggressive Trail Rated 4WD system. It gives the 2018 Jeep Grand Cherokee TrailHawk the optimum amount of traction. Remember, this Briggs Jeep review only provides an overview of what the Trailhawk brings to the table. To experience the new Trailhawk in person, contact your local Topeka Jeep dealership to schedule a test drive.
Engine
The new 2018 Trailhawk is coming to Topeka KS! You will have two powerful engines to choose from. With a total production of 290 horsepower and 263 pound-feet of torque, the base Pentastar V-6 engine is a more than worthy choice. It delivers a strong performance while remaining incredibly efficient. An eight-speed automatic transmission optimizes the engine's responsiveness. If you need an extra amount of pulling power, step up to the beefy Hemi V-8 engine. It is tuned to churn out a potent 360 horsepower and 390 pound-feet of torque. Not only is the Trailhawk quick, but it is also a formidable towing machine. You can make good use of the standard Class IV trailer hitch. A maximum towing capacity of 7,200 pounds enables you to easily pull boats and campers.
Safety
Excellent crash protection remains one of the Grand Cherokee Trailhawk's best qualities. Expect the new Grand Cherokee Trailhawk to earn another five-star safety rating. Unonnect Access gives you around-the-clock emergency assistance. This is good news for the drivers who tend to do a great deal of traveling. A powerful braking system comes standard. Jeep also offers a number of world-class driving aids, including blind-spot monitoring and adaptive cruise control.
Remember, the new Trailhawk is coming to Topeka KS! Contact your local dealer to learn more about this 2018 Jeep SUV.