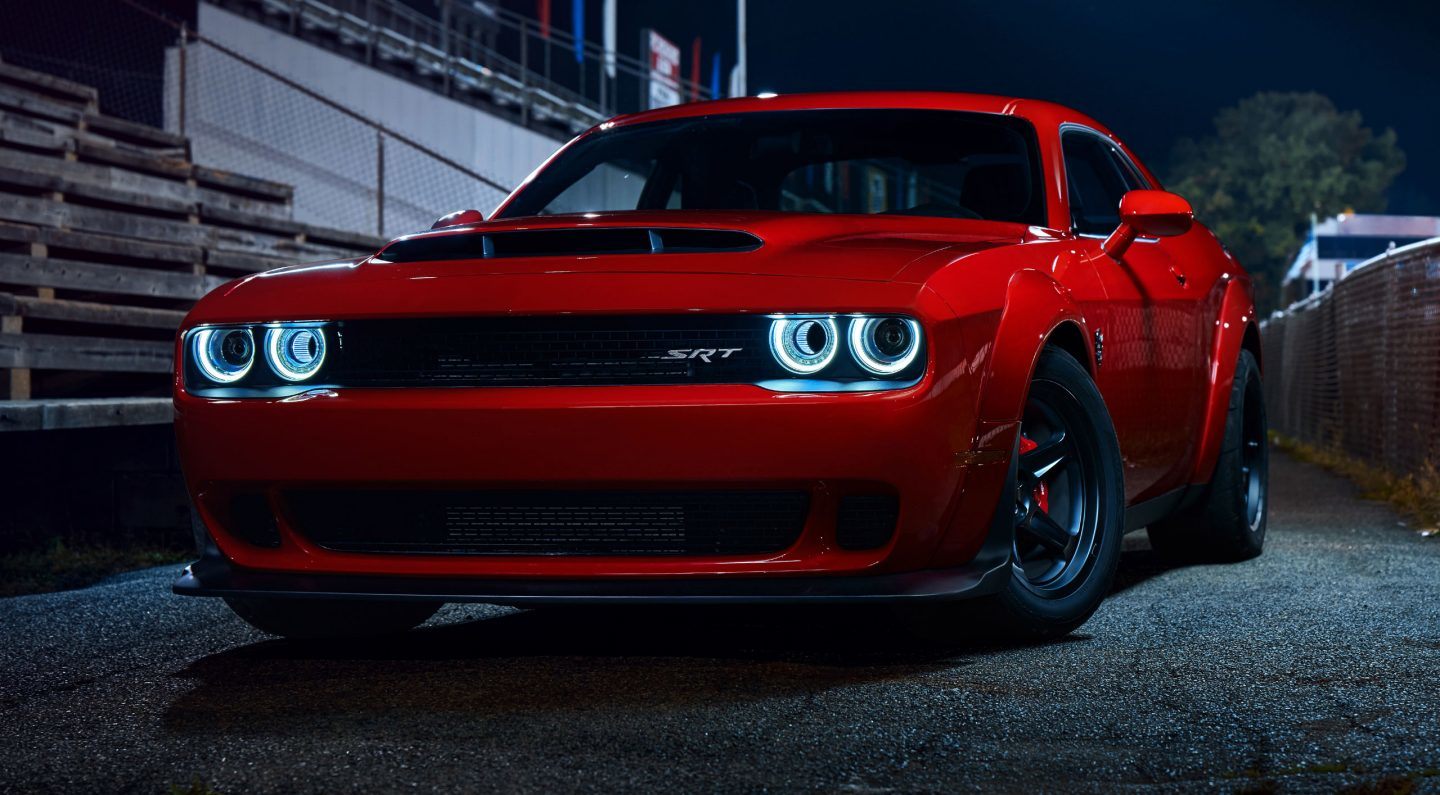 2018 Dodge Demon Near Kansas City
Demon is one hell of a name for a car, but somehow it suits the vehicle perfectly. This model is so fast and so full of fire that only drivers that like to flirt with the wild side can appreciate it. If you're one of those folks who are into a wicked amount of speed and a hellfire-hot body, then this version of the challenger is just for you. You'll love every inch of it. Briggs Dodge Topeka can get you hooked up with one of these if you make the first move by calling them. Here's some additional information on the model:
2018 Dodge Demon Near Kansas City: Interior
The interior of this vehicle is one that is going to get you ready for naughtiness. The leather and suede Hellcat logoed seats have red and black coloring to get your mind ready for the racing that's about to occur. The digital instrument cluster keeps you abreast of everything that's going on while you're burning up the roads. As far as the room goes, the 2018 Dodge Demon can fit up to five people in it and the cargo capacity is great if you choose the model that has the seating. You see, the base model of this vehicle comes with only one seat and nothing on the floor. Dodge wanted to stress that this car was different and that it was a race car. They may have gone a bit to the extreme by removing the seats, but you can get them put back in for a very small payment. You'll also have ventilated seating to make you feel a little bit more comfortable while you're in the hot seat. Set an appointment with the dealership serving Kansas City drivers so that you can see what the fuss is all about.
2018 Dodge Demon Near Kansas City: Exterior
The exterior is so hot that just looking at it will make you sweat. There's a red option, and it's on fire. The model still has the classic maneating grille and the headlights that look like sets of eyes. Overall, it resembles the other Challengers with the power budget aluminum hood, but it also has air extractors and air catcher headlamps that give it a unique appeal. It's a sassy body that will garner a lot of stares if the onlookers can keep up with it with their eyes. Ask the Dodge dealer serving Kansas City drivers about that. Briggs Dodge Topeka serving Kansas City drivers is the best place to ask.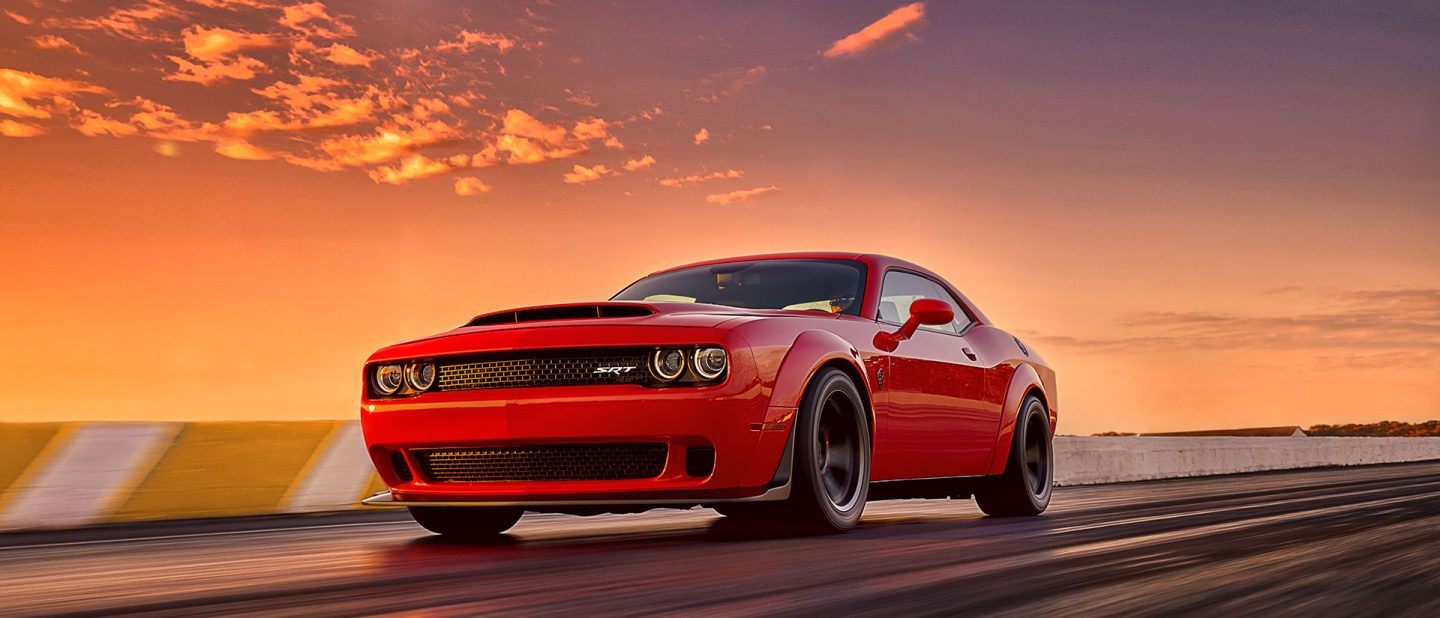 2018 Dodge Demon Near Kansas City: Mechanical
One of the mechanical features that you will enjoy is the 8.4-inch display screen of many purposes. The screen will play your navigational directions, your audio information and your diagnostics. So, you see, you will have plenty of access to gadgets and goodies on this speed demon.
2018 Dodge Demon Powertrain
The powertrain and performance are really what everyone is interested in when they inquire about this model. This car has more power than should be allowable in an automobile. It comes with a 6.2-Liter HEMI SRT Demon V8 engine that is capable of igniting the asphalt when it takes off. The horsepower that this beast can get is ungodly. You will rip down the road with over 800 horsepower if you can handle it. With speed like that, it only takes that car one second to go from 0 to 30 miles per hour. One more second, and you're at 60. In reality, this car is faster than some of the cars on the market that cost millions of dollars. That is just amazing, and it's another reason that you should want to get your hands on one. The cost may be less than what you ever imagined. That's something that the finance department can help you with. They'll let you know what they can do for you to ensure that you qualify for such a vehicle.
2018 Dodge Demon Safety Features
Safety features are probably a good idea inside of a vehicle that refers itself to hell. You'll be glad to know that this model does come equipped with a suite of protective and preventive options. Dodge made sure that it didn't make this race car without giving it some features that could keep people safe. The unit has Electronic Stability Control, Forward Collision Warning, Hillstart Assist, Blindspot Monitoring, Traction control and many more features. It's necessary to have a fleet of safety features when you're behind the wheel of the fastest production car in the world.
Are You Ready to Catch Hell?
If you're looking for a phenomenal piece of machinery that has set world records, then this just might be the unit for you. You'll need to test-drive it to see if it truly suits you, however. Briggs Dodge Topeka can set you up for a test-drive as soon as the model comes in. Your test-drive will be especially fun because this vehicle holds so much power in it. If you like it, the finance department can help you own it. Why not buy yourself a car that will go down in history? You may not see another vehicle like this for many years. Go for it and make that call today. You may be the proud owner of one of these machines today.