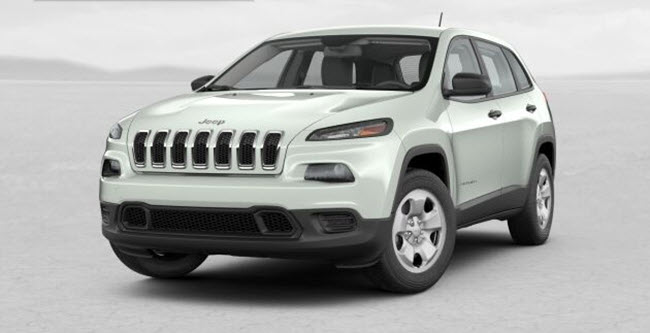 2017 Jeep Cherokee near Council Grove Kansas
If you are looking for a comfortable ride that can also perform well in off-road conditions, you might be wondering what option will meet your needs the best. The good news is that you can't go wrong when you opt for the 2017 Jeep Cherokee serving Council Grove KS. This affordable vehicle offers drivers the perfect combination of style and ruggedness. We are about to explore some of the amazing features of the Cherokee, and it won't take you long to see why many people love this vehicle. You will have a range of colors from which you can choose, allowing you to find the Cherokee that matches your taste and personality.
2017 Jeep Cherokee Interior
As soon as you step inside of the 2017 Jeep Cherokee, you will know that you have found something special. If you want to take the family to school or on an adventure, the Cherokee has what it takes to get the job done right. If you need a little extra cargo room, you can fold the back seats down. The seats are designed to provide a relaxing trip, and the onboard navigation system will ensure that you don't get lost along the way. Also, the USB charging ports and digital instrument panel will take your experience to the next level. If these features appeal to you, don't waste any time getting a 2017 Jeep Cherokee serving Council Grove KS.
Exterior
When you see the outside of the Jeep, you will know that the manufacturers have built it to last. Boasting four doors and a rear cargo hatch, this vehicle makes it easy for you to load passengers and supplies for any occasion. If you run out of cargo room on the inside, you will be thrilled to see the roof rails, allowing you to haul luggage, equipment and more without stress. A lot of people have already taken advantage of what this vehicle has to offer, and you can contact Briggs Jeep if you want to do the same.
Mechanical
Seasoned consumers know that buying a car or truck without taking the time to look under the hood would be a mistake. Our dealership has been serving Council Grove Junction City Topeka Kansas and is proud to highlight the mechanical features of this unbeatable vehicle. Even with a towing capacity of 2,000 pounds, the jeep will provide you with 30 miles per gallon. So you will not have to give up fuel efficiency when you want to get enough power to handle the toughest jobs. Depending on your needs, you can choose from the two- and four-wheel drive options.
Powertrain
When it comes to power and maneuverability, you will need to avoid overlooking the powertrain. As the system that transfers the power of the engine into movement, the powertrain is one of the most important parts of any vehicle that you might want to buy. The 2.4-liter engine works with the transmission to provide drivers with 171 pounds of torque and a range of 495 miles. If the standard options don't grab your attention, you can find several alternatives that could be the perfect solution.
Safety
No matter if you are driving by yourself or transporting the children, safety should always be your No. 1 priority. For the duration of our time serving Council Grove Junction City Topeka Kansas, we have always provided our customers with the most reliable vehicles on the road. Getting behind the wheel of the Jeep will give you access to driver, passenger, side and head airbags to keep you alive in the event of an accident. But preventing a crash from taking place is the first step in safeguarding your life, which is why the Jeep also has a lane departure warning system, traction control and safety locks.
The brake assist feature will help you avoid collisions, and the rollover protection will give you peace of mind. If you plan to drive down the road or across the country, you will know that you will reach your destination safely. When you want to trust your vehicle to protect you from the dangers of the road, contact Briggs Jeep.
Getting Started
If you want to become the proud owner of one of the safest and most reliable vehicles of 2017, don't miss your chance to check out the 2017 Jeep Cherokee serving Council Grove KS. You will enjoy an unbeatable mix of safety and performance features that you won't be able to find anywhere else. Our time serving Council Grove Junction City Topeka Kansas has earned us a reputation for offering quality vehicles and friendly service. When you speak with us, we will gladly answer your questions and address your concerns. Because we expect the new jeep to sell quickly, you could lose your opportunity if you wait too long. So contact Briggs Jeep as soon as possible.